JOB: Personal Assistant (PA)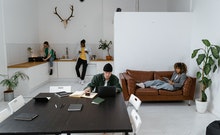 Personal Assistant (PA)
Job description:
Your main role will be to free Jay Baba's time from organising and administrative tasks so that he can spend his maximum time on strategic tasks. Your responsibilities will include:
- Social media management and influencer
- Proofreading
- Marketing, promoting, advertising and publicity
- Acting as a first point of contact: dealing with correspondence and phone calls
- Managing diaries and organising meetings and appointments
- Booking and arranging travel, transport and accommodation
- Organising events and conferences
- Reminding Jay Baba of important tasks and deadlines
- Typing, compiling and preparing reports and presentations
- Managing databases and filing systems
- Implementing and maintaining procedures/administrative systems
- Liaising with staff, suppliers and clients
- Collating and filing expenses
- Assisting with recruitment of marketing and domestic services workers for Jay Baba
- Miscellaneous tasks to support Jay Baba, e.g. completing some corporate governance reporting (conducting research to ensure that the business is being run properly and complying with legislation and regulations)
Qualifications and training
No formal academic qualifications are required as we will provide you with full training on the job, although a tertiary qualification in any subject and/or previous experience of administration, creative or personal assistant work may be advantageous.
Time requirements:
You will have a ton of flexibility when it comes to time to do your tasks. Most of your tasks can be completed any time of the day or night and many of the things assigned to you can be done from anywhere online. Each week you will have a list of tasks to complete within a reasonable time frame. You can schedule all your appointments to suit your schedules. The most important thing is for you to reach your targets and deadlines and to communicate with Jay Baba and keep him up to date with your tasks.
To apply for this role, email us at [email protected]